Premier Collection Service Center
2425 West Northwest Highway
Dallas, TX 75220
Service: (866) 249-2892
Service Hours
Monday

8:00AM - 6:00PM

Tuesday

8:00AM - 6:00PM

Wednesday

8:00AM - 6:00PM

Thursday

8:00AM - 6:00PM

Friday

8:00AM - 6:00PM

Saturday

Closed

Sunday

Closed
See All Department Hours
Dealership Hours
Monday

9:00am - 6:00pm

Tuesday

9:00am - 6:00pm

Wednesday

9:00am - 6:00pm

Thursday

9:00am - 6:00pm

Friday

9:00am - 6:00pm

Saturday

9:00am - 6:00pm

Sunday

Closed
Parts Dept. Hours
Monday

8:00AM - 6:00PM

Tuesday

8:00AM - 6:00PM

Wednesday

8:00AM - 6:00PM

Thursday

8:00AM - 6:00PM

Friday

8:00AM - 6:00PM

Saturday

Closed

Sunday

Closed
Service Dept. Hours
Monday

8:00AM - 6:00PM

Tuesday

8:00AM - 6:00PM

Wednesday

8:00AM - 6:00PM

Thursday

8:00AM - 6:00PM

Friday

8:00AM - 6:00PM

Saturday

Closed

Sunday

Closed
OUTSTANDING SERVICE
McLaren Dallas Service not only excels in selling the world's finest cars, but also in keeping them in perfect running order. We employ expert technicians, using state-of-the-art equipment in exceptionally advanced service bays. You can rest assured that, when you bring your vehicle to Avondale you are receiving the same level of dedication and professionalism that have made us famous.
Schedule Service
LOOK TO MCLAREN DALLAS FOR
Certified McLaren technicians with over 100 years of combined service experience  
Friendly and efficient service staff that will take care of you and your vehicle and get you quickly on your way  
Complimentary loaner vehicle with service work  
Complimentary shuttle service to and from the dealership  
Competitive pricing based on routinely checking other dealerships  
Complete line of factory diagnostic equipment that's not available at independent service repair shops  
Genuine parts backed by a two-year unlimited mileage warranty  
Complimentary Wi-Fi and computer work station in our client lounge  
Complete interior and exterior details available  
Convenient Saturday and extended weekday hours
ROADSIDE ASSISTANCE
Have a flat tire? Need a tow? Run out of gas? Rest assured knowing that whatever happens while you're on the road, we're here to help. In most cases, roadside assistance coverage extends through your warranty period. This coverage period may have been extended if you purchased a certified pre-owned vehicle. If you should find yourself in need of McLaren Roadside Assistance, please call us at 855-462-5273 and have the following information ready when you call so that you can be better served: Your name, telephone number, year, model, color, identification number, disabled location of vehicle and description of problem.
YOU'RE IN SAFE HANDS
Nothing should get in the way of enjoying your McLaren. So we make sure that nothing does. The McLaren network is your dedicated team. They know what makes your car unique and exactly how to help you enjoy every ounce of its fearsome potential. Plus, relying on our network also safeguards your McLaren warranty. For peace of mind that goes even further, you can find out about our Extended Warranty and Extended Service Contracts here.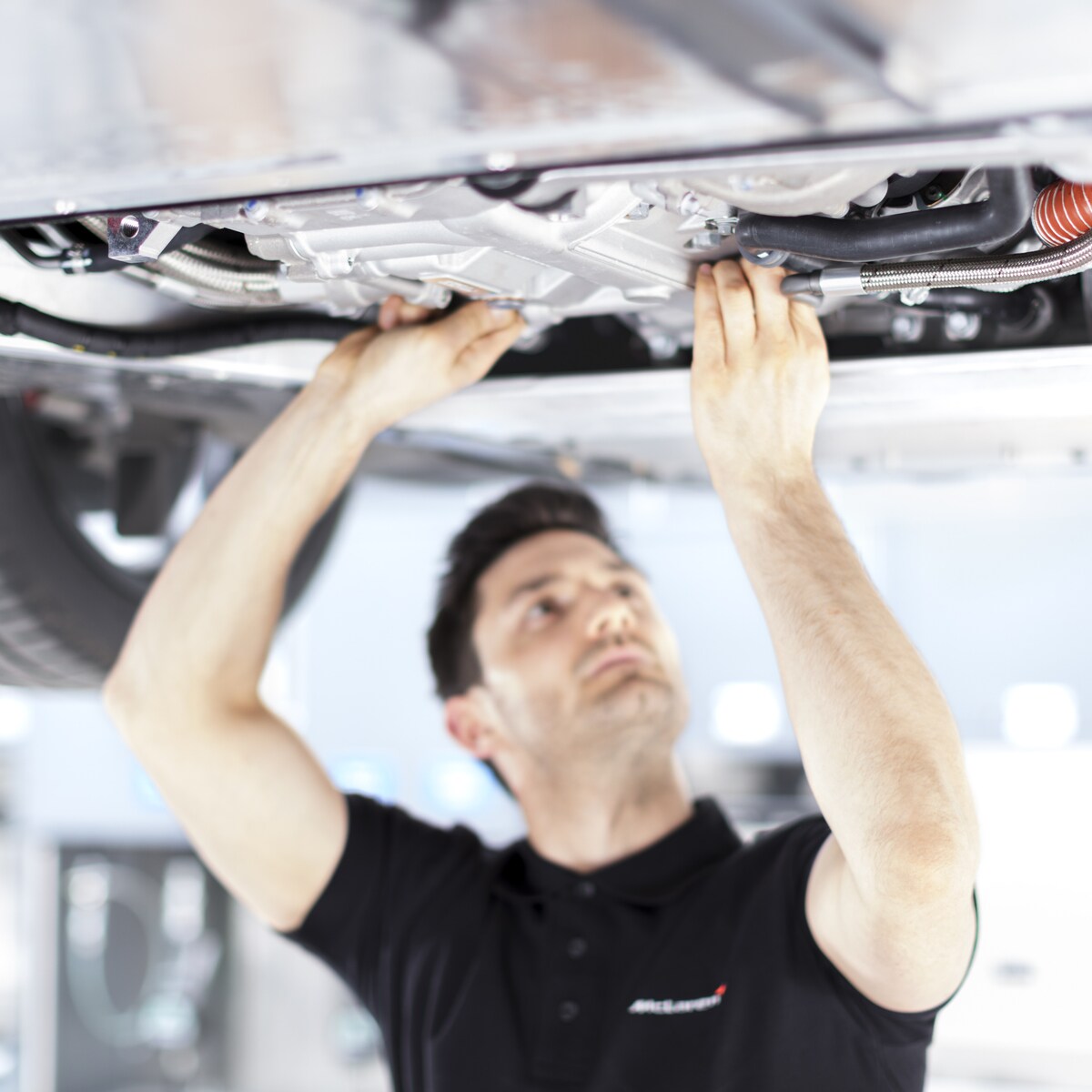 THERE'S NOTHING ROUTINE ABOUT OUR SERVICING.
Because there's nothing ordinary about your car. McLaren Dallas' workshop is equipped and trained to perfection.
In fact, we apply the same level of expert knowledge and meticulous attention to detail in looking after your McLaren that went into building it. From an oil change service to a full inspection after a heart pumping track day, they've got everything covered. Each McLaren model has its own unique service schedule. But we also understand that each of our owners has their own individual requirements. Our services reflect that. Put simply, it's the finest maintenance available for your McLaren.